Australia China Friendship Society
China Ethnic Minorities Crafts and Festival Tour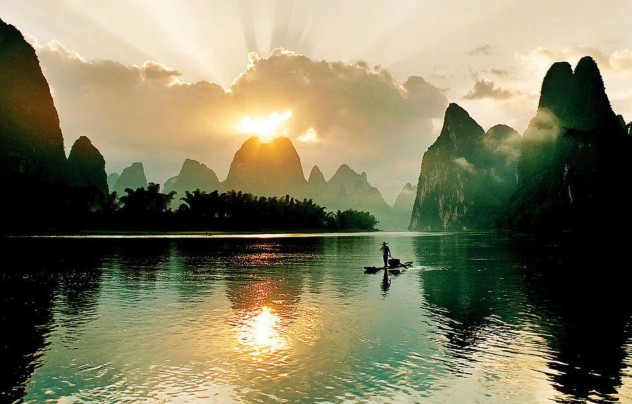 Led by world renowned expert on ethnic minorities Prof Colin Mackerras AO
Prof. Mackerras has worked at Griffith University for over forty years and has visited China for purposes of teaching, researching, attending conferences and touring, nearly 70 times. He has written widely on several aspects of China, including the ethnic minorities. He won a Friendship Award in 2014, and in 2015 a Special China Book Award, given to foreigners who have made outstanding contributions in spreading Chinese culture through their writings.
Departing on 22th April 2018
13 day tour to Guangzhou, Guilin, Yangshuo,
Longsheng, Sanjiang, Zhaoxing & Kaili
Itinerary
Day 1: 22 Apr Australia – Guangzhou (Sun)
Today you will take China Southern Airlines flight from Australia to Guangzhou, upon arrival, please collect your luggage and walk by yourself to check into Guangzhou Airport Pullman hotel for 1 night.
Sydney flight: CZ326 1045/1830 to Guangzhou Melbourne flight: CZ344 1030/1745 to Guangzhou Brisbane flight: CZ382 0955/1655 to Guangzhou Adelaide flight: CZ664 1000/1735 to Guangzhou Perth flight: CZ320 0830/1630 to Guangzhou
Day 2: 23 Apr Guangzhou – Guilin (Mon) (2 hours and 40 minutes) Meal: B/D
Today you will be picked up from Guangzhou hotel and transfer to Guangzhou South Railway station for the train D2814 1036/1321 (first class) to Guilin. Our guide will meet you at the Guilin railway station and transfer to your hotel. Free at leisure for the rest of the day.
Accommodations: (4*): Bravo Hotel, Guilin (2 nights)
www.glbravohotel.com
Day 3: 24 Apr Guilin (Tue) Meal: B/L/D
Program: In the morning, drive to Daxu Ancient Town, it is one of the four famous ancient towns in Guangxi province with a history of over 1000 years. If weather permits, pick strawberries or mulberries at a local farmer's garden. Enjoy a fresh and delicious local "farmer's meal" at the farmer's house. In the afternoon, transfer back to Guilin city, visit Reed Flute Cave and enjoy a stroll along the city central lakes.
Day 4: 25 Apr Guilin – Yangshuo (Wed) Meal: B/L/D
Program: Your guide will meet you after breakfast and you will be driven about 40 minutes to the pier to board the cruise ship. A boxed lunch is included during the Li River Cruise to Yangshuo (3.5hrs). In the afternoon, a countryside tour to Fuli town and on the way, you will visit a local family. In Fuli town, learn to make a painted fan at a local workshop. There are optional excursions for those who do not wish to join the Li River cruise (ask for details).
Accommodations: (4*): Yangshuo Moondance Boutique Resort, Yangshuo (1 night)
www.moondanceyangshuo.com
Day 5: 26 Apr Yangshuo – Long Sheng (4 hours) (Thu) Meal: B/L/D
Program: This morning we head to the Longji Rice Terrace Field area, to visit Jinzhu Zhuang village, and pay a visit to see how the local minority women make their love gift – embroidered balls. Then transfer to visit Ping'an Zhuang village and Longji Rice Terraces (you will need to walk about 30 minutes up to Ping'an village).
Accommodations: Longji Star-wish Resort, Longji (1 night)
Day 6: 27 Apr Longshen – Sanjiang (2 hours) (Fri)
Meal: B/L/D

Program: Transfer to Sanjiang, on the way visit a craftswoman
who is a specialist in making embroidered shoes and other hand-made textiles. She will show how to cut out, embroider, make the soles etc. You will also see the traditional paper cutting craft in the same village. Then proceed to Sanjiang, visit Chengyang Wind and Rain Bridge which has a history of almost one hundred years. Later visit a local tea plantation, experience tea picking and sample the tea.
Accommodations: Dong Village Hotel (1 night)
Day 7: 28 Apr Sanjiang – Zhaoxing (Sat) Meal: B/L/D
Program: Morning visit to a Dong village. You will have an opportunity to visit a local family who still weave cloth like their ancestors hundreds of years ago. You will observe how to use the traditional loom there. Then transfer to Basha Miao village where you will see the only gun tribe in the country. Enjoy a Singing and Dancing performance. Transfer to Zhaoxing.
Accommodations: Indigo Lodge Zhaoxing, Zhaoxing (2 nights)
Day 8: 29 Apr Zhaoxing (Sun) Meal: B/L/D
Program: Visit Zhaoxing Dong villages. We will arrange to explore one of the major habitats for Dong people. Dong people are not only talented architects but also talented singers. You will have an opportunity to listen to the Grand Song of Dong which is used to tell their history and heritage for many generations. In the afternoon, visit a Dong Village to see Indigo Dyeing in the traditional way at a local family's house. In the evening, enjoy the Dong Minority Grand Song performance.
Day 9: 30 Apr Zhaoxing – Kaili (Mon) Meal: B/L/D
Program: Transfer to Kaili. On the way visit a Qingman Miao Village and have lunch at a local
Miao family. After lunch transfer to Shiqiao village to see paper making by traditional ancient method, You will have an opportunity to learn how to make paper during the visit. Accommodations (4*): Grand Metro Park Hotel, Kaili (3 nights)
Day 10: 01 May Kaili (Tue) Meal: B/L/D
Program: In the morning, visit Kaili Museum to learn about the minority groups in the South-East of Guizhou. Then transfer to Shidong country to experience the unique Sister Meals Festival in a Miao village. The Festival is held from the 15th to 17th day of the third Chinese lunar month. The Sister Meals Festival is considered as the oldest Valentine Day in Asia, and is still the most popular festival among young men and young women of the Miao ethnic people. In the late afternoon, visit a workshop to see how to make silver ornaments.
Day 11: 02 May Kaili (Wed) Meal: B/L/D
Program: Visit Langde Miao Village by the Bala River, then proceed to Datang village to witness the "Mini Skirt Miao", and Paika Village famous for Lusheng (a musical instrument) production. Drive back to Kaili.
Day 12: 03 May Kaili – Guiyang – Guangzhou – Australia Meal: B
Today you will be transferred to Guiyang airport for the flight CZ6295 1525/1705 to Guangzhou, then connect the overnight flights back to Australia.
Return to Sydney flight: CZ325 2110/0825+1 Return Melbourne flight: CZ321 2055/0840+1 Return Brisbane flight: CZ381 2120/0825+1 Return Adelaide flight: CZ663 2215/0830+1 Return Perth flight: CZ319 2220/0600+1
Day 13: 04 May Australia
Arrive in Australia in the morning.
ACFS member price: $4350.00 per person Non member price: $4450.00 per person Single supplement: $810.00
Inclusions:
Twin share at the hotels as mentioned in the itinerary or similar.
Fully inclusive tour with English speaking guide, entrance fees, meals as per itinerary
China Southern Airlines airfare departing from Sydney, Melbourne, Brisbane, Adelaide and Perth to Guangzhou and back from Guiyang via Guangzhou on economy class including taxes and fuel surcharges.
First class train tickets Guangzhou-Guilin
Travel by luxury, air-conditioned coaches whilst in China.
Chinese tea and one glass of soft drink included in all lunches and dinners.
All tipping.
CBT travel wallet and travel bag.
Exclusions:
China Visa application fees.
Personal expenses.
Travel insurance (Strongly recommended).