Annual Shanghai International Youth Friendship Camp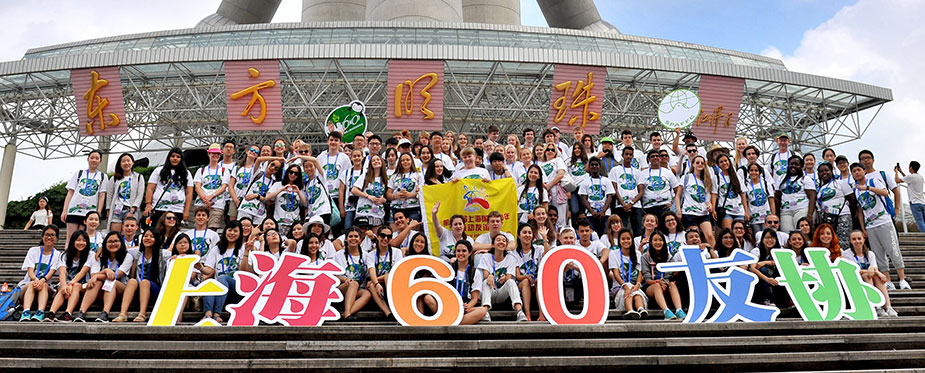 Each July the Shanghai People's Association for Friendship with Foreign Countries and the Shanghai Youth Federation sponsor an International Youth Interactive Friendship Camp. Young people from more than 20 countries spend ten joyful days together in the camp. They will have the chance to experience Chinese culture as well as interacting with young people of many different nationalities and ethnicities. The camp usually includes one-day homestay with local volunteer families will give these young people exposure to the customs of Shanghainese.
The aim of the camp is to encourage young people all over the world to become goodwill ambassadors and leverage the wisdom of youth for world peace and friendship.
Since its launch in 2005, the camp has attracted over 900 young people from nearly 50 countries and regions and has been well recognized for its features of  "Joy, Interaction, Friendship, Ambassador". The Camp has played an instrumental role in deepening mutual understanding and exchange between young people in Shanghai and other countries.
The Australia China Friendship Society (ACFS) is an organisation which has been working for more than 60 years to develop friendship and understanding between the peoples of Australia and China. Our National committee assist the Shanghai Youth camp by choosing the five (5) Australian students from 15 to 17 years of age to attend the camp, with an appropriate chaperone.
Our ACFS Tours Secretary Pat O'Riley will be coordinating the selection of applicants and chaperones. Please contact her for more details on acfssatours@gmail.com or go to the camp page.
The Annual Shanghai International Youth Camp has had delegations from 2011 to 2017. It is anticipated that this will be offered again under similar conditions for 2018.
The interactive programme provides exposure to Chinese language, martial arts, sports, sightseeing, food and culture.
Details and selection processes for 2018 are presented below for possible future consideration.
Prior participants from Australia
2017 Youth Camp
Shanghai Youth Friendship Camp 2017 – Emily Jennings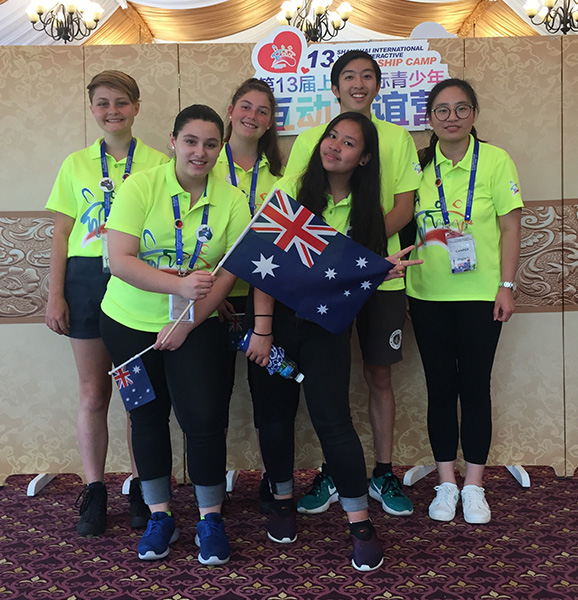 On the 17th of July 2017, I was one of five Australian youth (myself, Cameron, Tayla, Yvonne. Andrew and Jingjie – Chaperone) who went to Shanghai, China as a cultural ambassador to learn more about Chinese culture and how people in Shanghai lived. We did this by attending the 13th Shanghai International Youth Interactive Friendship Camp. I found this experience exciting fun and enriching.
The Chinese Exchange Program enabled me to achieve something that I am passionate about as I study Chinese and am a keen mandarin leaner. I have fostered a passion for language and culture learning, allowing me to easily transfer this when in a new environment. As well as connecting with a new culture. I was eager to make a positive contribution to seek peace and harmony. I value this chance to demonstrate leadership as I am keen to help others grow, learn and succeed.
Representing the ACFS I could adapt to different cultural and culinary experiences. I had the ability to embrace challenging situations I was presented with having a kind and calm mindset when making decisions. My goal was to continue to expand my knowledge and build on my education as I enjoy learning Chinese and its culture. I chose to become a cultural ambassador for the ACFS and am grateful for them providing me with this amazing experience.
My favourite part of the trip was when I spent the weekend with my host family as it gave me an insight into their lifestyle.
Thank you and appreciation to the leaders and volunteers of SPAFFC and the Shanghai Youth Federation. I would especially like to thank my group leader Cathy, my host family Dr and Mrs Yan and their daughter Jessy for their hospitality, and Pat O'Riley and Jingjie Li for preparing me for my journey to Shanghai.
I am proud that the ACFS chose me to attend this camp.
Read report by Yvonne Dumlao and Chaperone Jingjie Li
---
2016 Youth Camp
Shanghai Youth Friendship Camp 2016 – Zac Dempsey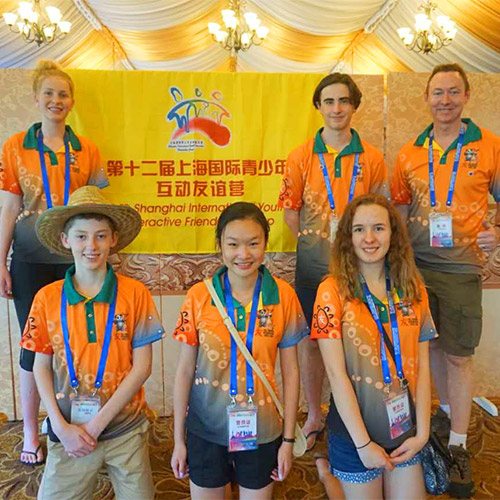 It was my first time travelling to the mighty city of Shanghai, what we found out later to be the largest city in the world – with its population larger than that of the whole of Australia. I wasn't sure of what to expect of this camp: Would the people be nice? Would the homestay be good? Will the activities be any good? Will I make any friends? This made me nervous to arrive, because I am not used to meeting large groups of new people in Australia. Upon arrival, Bhumi and I were lucky enough to run into the rest of the Australian team, and through meeting them for the first time, I knew it would be a good camp. I was so lucky to have such a great team and such an enthusiastic leader like Shane. I had countless good times, met a lot of people and made a lot of memories which I will never forget.
Each day we participated in a varied number of activities, some away from our accommodation and some at. Meeting my group (Group 6) for the first time was fantastic and I really enjoyed making our team flag and presenting it. One of my favourite activities was the four wheeled bike scavenger hunt on the second day because it got our group to communicate and get to know each other in a more 'one on one' environment, also the bikes were awesome. I too enjoyed the tie dye and craft work we did after that.
The most memorable time for me was when we visited the Oriental Pearl TV tower on the 7th day. From this point on, the group started to interact more with one another and stronger friendships were being made. The feeling of standing on a glass lookout over 250 meters in the air was not one to be forgotten (as Perth's tallest building is just under 250 meters).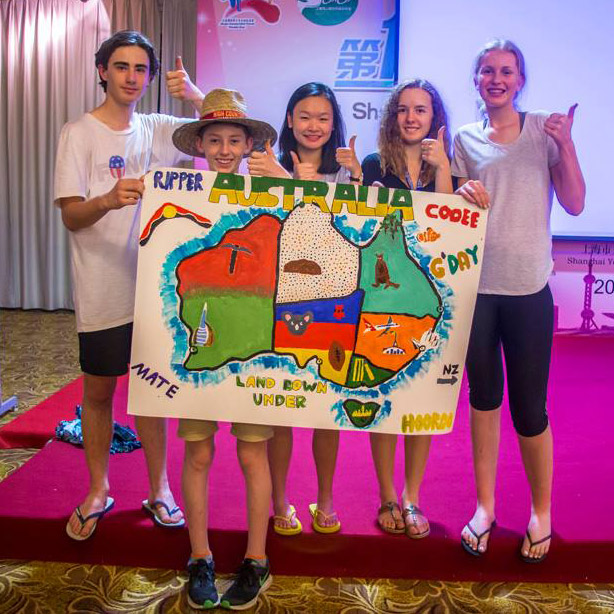 Over day 5, we were sent off with a local Chinese host family in order to experience what it was like to be like a 'Shanghaiese' person. On this day my host family took me to Chongming Island, the third largest island in China. The journey there was quite amazing, because we travelled over one of the longest bridges in the world to get there. From there we explored around a wharf there before doing a tour around the Wetlands Park. This park was unlike anything I've ever seen before, the amount of fauna and flora was amazing. I would like to thank Lee and his family for hosting me over the 2 days, thank you all for your hospitality and I had an amazing time experiencing what it was like to live in Shanghai.
A resounding highlight for the camp for me had to be the friends I made, and from all over the world. There were so many countries and people and cultures there which are entirely different to that of Australia and learning about those was fascinating. The close bond we had over such the short time was amazing and the hardest and saddest part of the camp was to finally say goodbye to them. I hope to be able to see them again.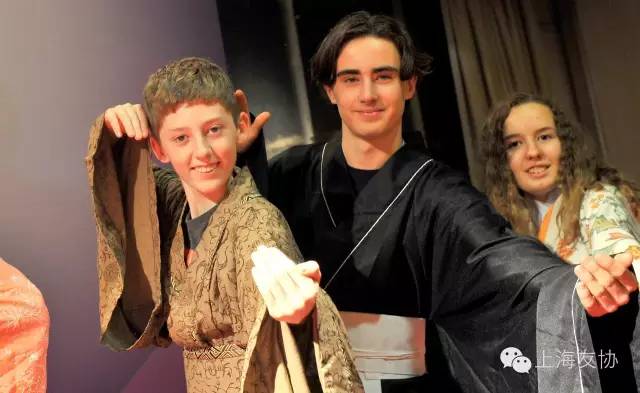 I would like to thank the Shanghai People's Association for Friendship with Foreign Countries and the Shanghai Youth Federation along with the Australia China Friendship Society for this opportunity to let all of us go on the 12th International Youth Interactive Friendship Camp (and congratulations on your 60th anniversary). It was well planned and the activities were well varied and fun. I wish I had the opportunity to participate again!
---
2015  Youth Camp
11th Shanghai International Youth Camp
Joint report from Kai Martin and Luke Prentice
At the 11th Shanghai International Youth Camp we came together as a big group of 100 campers from 20 different countries and were split into 10 groups of 10 where we got to know the people that we were going to spend most of our time with. Trying to recognise all the different languages and working out which country they were from was a challenge.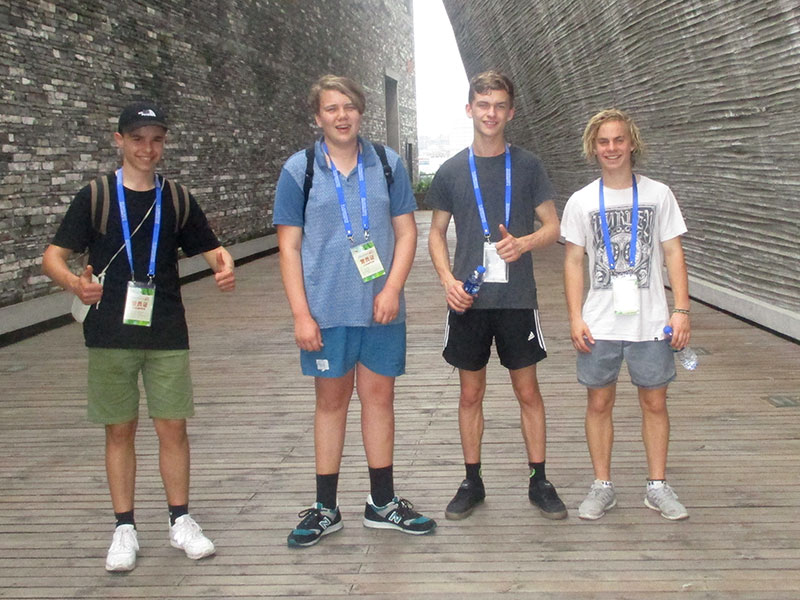 Photo left: 2015 Camp delegates at the Ningbo Museum. L-R Finn Becroft, Liam McKenzie, Luke Prentice, Kia Martin
Before going into the city we were taught basic Chinese to get us through our time in Shanghai. We learnt how to count to ten and how to say simple sentences such as "Hello" and "How are you" We also shown how to write in Chinese which was interesting because it was like art.
Our groups designed team flags which was a great way to bond with our new friends, and we created a flag which incorporated each country's flag in our individual group to show peace and togetherness in the world.
In five groups of 20 activities we were encouraged to use our athletic abilities in Outward Bound Development Training, Heroes road, Fun Bridges obstacle course and Dragon Boat racing activities.
Dragon Boat racing was the highlight and a great team building exercise. The object was to race other groups around a lake with 9 youth rowing and one person beating drums at the front of each boat. Kai's team won this activity.
Watching traditional Chinese Dancing and later trying on historical dress of the Han Chinese people was enjoyable. Some peers got to learn dance moves and throw an arrow into a pot whilst others watched in amusement.
Trying our hand at Tradition Chinese painting was not easy but some youth were very artistic and were capable of painting fantastic things.
A visit to Huangcheng fishing beach provided opportunities to casually meet other campers and relax in san and water.
Exploring an old Chinese village was a big culture shock where we got to see how the Chinese really lived. It was a great way to speak to the Chinese people who appeared very happy to see us.  This visit provided another opportunity to bond as a group and buy some souvenirs for our family and friends at home.
Meeting with our host families was nerve racking as after being given a sticker with a number on it we were put on a room and had to find someone with the same number that would be the host person that we would be staying with for 2 nights and a day. This was a challenge as there were 200 people in the room doing the same thing. After finding them we went outside to meet the parents and went home to get to know them before bed.
The day with our host families provided amazing experiences where we learnt what it truly meant to be part of Chinese family.  Through conversation we discovered that we had many things in common with our host brothers especially our love of video games.  Our host mothers gave us Chinese tea and taught us to make dumplings which took a lot of technique, skill and practice. Several host families met to spend the day sightseeing together.
Every day during the ten day camp was jam packed with activities and places to go which taught us about Chinese Peoples strong beliefs and connection with their history.  We saw various art and war museums to educate us about Chinese history and culture.
A cruise on the Huangpu River during the night showed many sky scrapers lit up with colourful displays.
A visit to Oriental Pearl Tower was a favourite part of the whole trip as it was very nice to unwind and look at the breathtaking view of Shanghai to view the infrastructure of the City which included 300m tall Skyscrapers.   The tower platform we were standing on was see- through glass, and some people were nervous to walk on it. But we all came together and overcome the fear of height together.
Overall the Shanghai camp journey was a huge experience which we will remember for the rest of our lives.  We are truly thankful for the Shanghai PAFFC, Shanghai Youth Federation and ACFS society for giving us this once in a lifetime opportunity.
A special thanks to Pat O'Riley for her help in preparing us for the journey and to our teacher Rosiland Hanley for supporting and guiding us through the whole two weeks.
We will have no hesitation in recommending and sharing our Shanghai Youth Camp experiences with future participants.
---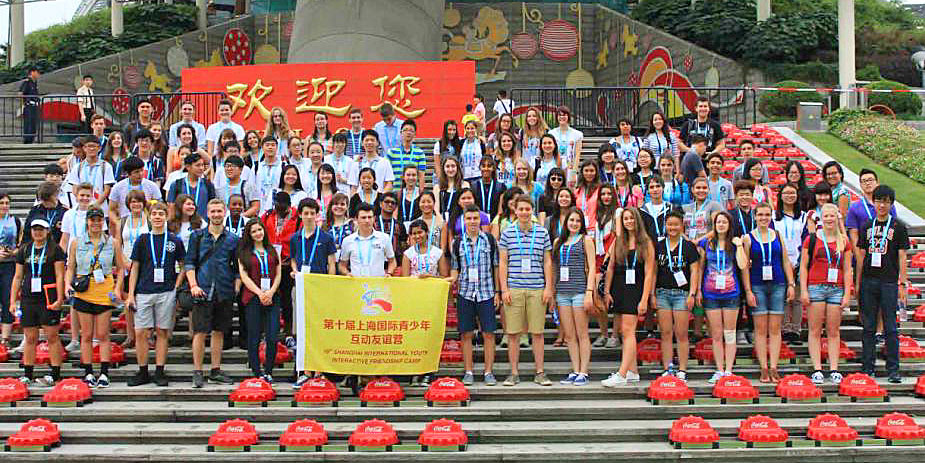 2014 Youth Camp
The youth camp was an amazing experience. The museum visits were fantastic and gave me a look at the long history of the city. Seeing such a large city after having never seen anything larger than Adelaide was both shocking and incredible. Just the scale of the city… all the people in one place!!.
The homestay was interesting, as it gave me a look at how a family lives in Shanghai and the differences and similarities in their home. Being surrounded by so many different languages but primarily Chinese was certainly a strange experience coming from such a small town, however it was also one of the best parts of the camp. Visiting both the tiny markets and massive museums also showed me the contrast that exists in the city of Shanghai and some insight into the culture. I would like to thank you and the ACFS for giving me this opportunity and supporting me through the journey. Rachel Anderson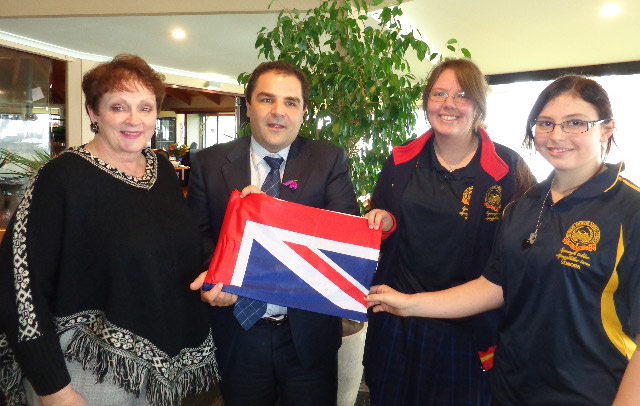 Tony Pasin MP presents Australian Flag to Rachel Anderson and Kalimna Roe Simons
2014 Youth Delegates to Shanghai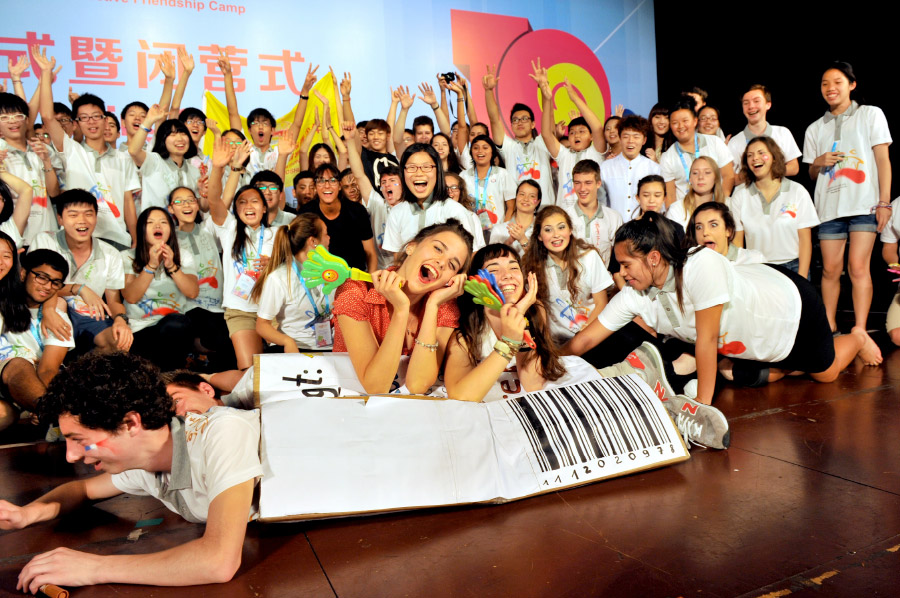 2014 International Youth Campers at final celebration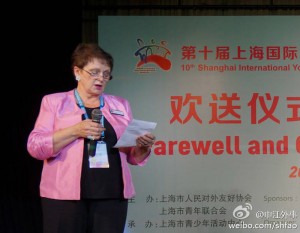 Thank you for the honour of speaking on behalf of the many countries and their students participating in this amazing 10th Shanghai International Youth Camp. My own experience has been, and I am sure I speak for all participants, an incredible experience.
We have been provided with many experiences that will remain for the rest of our lives plus differences lifestyles. Now I would encourage you all to consider inviting Chinese students to visit your countries and share day to day living experiences which will provide a fantastic opportunity to understand and see what you are proud of.
Please join me in showing your appreciation to our hosts and acknowledge their hard work and efforts in organising this fabulous event.
2013 Youth Camp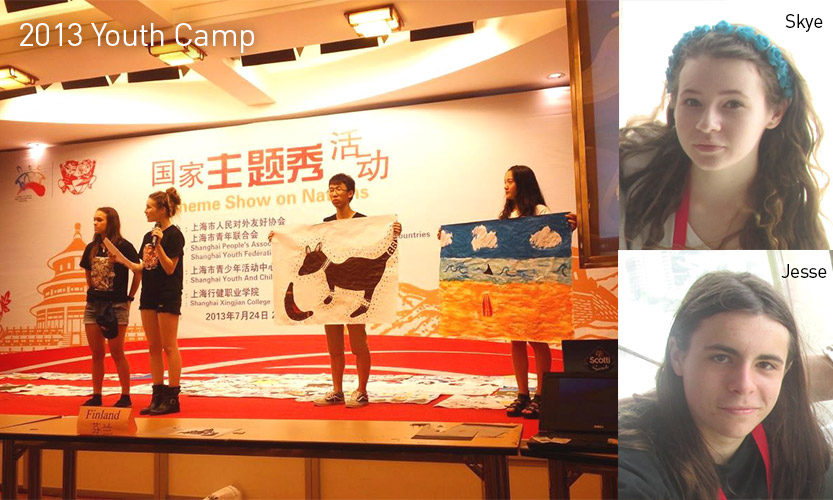 An Overview from Skye
I was very nervous in the anticipation of my trip to Shanghai, but as soon as we landed my fears went away as we were greeted by Maggie, who was very welcoming. We didn't check into the hotel until 1:30 in the night, but a lack of sleep didn't ruin our first day in Shanghai as we were too excited.
In the first few days we went to the Shanghai University of Sport to watch a performance and learn martial arts, which was one of my favourite activities within the camp. My other favourite organised activity was the orienteering competition, I've never done anything like it before and it was so much fun.
I was most anxious about home stay, but I met Crystal; who I would be staying with, and we got on straight away. Home stay turned out to be the highlight of the whole trip! It was so interesting to see the differences between how an average Chinese family lives, compared to how I live in Australia.
I got to experience new food and go to some of the places Crystal and her family go on the weekends. Crystal is one of the most wonderful people I've ever met and I am very thankful for the opportunity to have stayed with her.
Shanghai is a very big and busy place, it made Adelaide seem so tiny. Everywhere is crowded, the streets are busy, the architecture is beautiful and I absolutely fell in love with it all. But the number one thing about my time in Shanghai was getting to meet all kinds of interesting people from all over the world. Everyone there was so friendly and open, and I miss them an incredible amount.
The Shanghai International Youth Interactive Friendship Camp has honestly been the best experience of my life and I am incredibly thankful to everyone involved. I learned a lot, not just about the city or the people I met; but also about myself. You don't realise it until it is all over, but the experience makes you grow as a person. I will truly treasure these memories I have of this trip, and I hope I can one day return to Shanghai again. Skye
Comments from Jesse
I wasn't sure what to expect for my trip to Shang-hai, as I had never been outside Australia before.
From what I knew, China was a foreign country with customs which I might have found odd and unusual. However, after only a few days, I found that there were many similarities between Austra-lia and China.
In terms of lifestyle, the single biggest change to me was my diet. Although I expected this to change, I didn't realise that in China, it's common to eat a large breakfast, then have your meals grow smaller as the day progresses. In Australia, the opposite is true with a small breakfast and a larger dinner.
My expectations, whatever they may have been, did nothing to prepare me for the great experience. I will never forget it.
I have kept in contact with both my Home-stay family and Bob my roommate. Since coming back to Australia, I've told and retold everything about China to my friends and family and I don't see myself stopping for quite a while, it was so impressive. Jesse
2011 Youth Camp
Promoting Communications with peoples all over the World
On 18th of July 2011, Shanghai hosted its 7th International Youth Interactive Friendship Camp. At this camp youths aged between 12 and 18 from 12 different countries come together to promote friendship and communication among peoples all over the world.
This year was the first time that a delegation from Australian attended the camp. My parents were very keen for me to attend the camp as they thought it was an opportunity for me to experience a different way of life. They often tell me that I perhaps I do not appreciate how privileged we are to live in Australia and that a view into an other culture would help me see the world from a different perspective. I thought it would be an awesome way to meet people from all over the world, so I decided to go.
Well, the exposure to a different way of live started as soon as we left the airport. I was overwhelmed by the endless highrise housing, masses of  electricity towers, billboards, multiple lane highways and continuous blasting car horns. Immediately the questions started, how many people actually live here, is this really just one city? Our lovely host, Wu Fei, explained that Shanghai had a population of 22million people. Three weeks later, I am still digesting this piece of information- can 22 million people really live in one city? As we got closer to the city centre I was impressed by the array of architecture. The high rise buildings came in all shapes and sizes. This was extraordinary.
Upon our arrival at a lovely hotel (The Shantex) which was to be our base for the next 10 days we were presented with camp t-shirts and a camp schedule. Everything was very organised. That afternoon we went to an opening ceremony at the Putuo District Library Auditorium where we saw Chinese dancers, Chinese costume display and a Pipa (Chinese 4 stringed lute) exhibition. During this ceremony all of us were called up on stage to hold our countries flag. It was a powerful site to be standing amongst the flags of China, Serbia, Russia, Korea, Belgium, France, Canada, Thailand, Australia, Germany, Italy, Sri Lanka all together and knowing that I was in the midst of friends from all over the world.
The second day of camp, we were treated to many organised activities which included Chinese Martial Arts at Shanghai Indoor Stadium and various Chinese folk games such as spinning tops and Jianzi (a traditional Asian game in which players aim to keep a weighted shuttlecock in the air using your feet and other parts of the body). These activities were not only fun but allowed us to get to know each other and to further develop our friendships and understanding of each others cultures.
The rest of the week included a mornings Orienteering at the beautiful Changfeng Park and an afternoon shopping at Tianzifang which is a maze of lanes filled with art shops, fashion and traditional Chinese wares. On Thursday we went to visit Shaoxing province which was amazingly beautiful. We went for a boat ride on the East Lake which meandered through caverns and rock grottoes and we visited the Chinese Rice Museum and wandered around Luxun (a great Chinese writer) Former Residence.
After a week, it was time our 2 night home stay with a Chinese family from Shanghai. We were all really nervous to leave our base, and the friends that we had made. Even though the organisers told us that the home stay families where very carefully selected , I still felt like I was way outside of my comfort zone. The home stay ended up being an unforgettable experience. It allowed me to truly absorb everything Chinese – the way they lived, how they relaxed, how they cared for each other, and their habits like taking their shoes off before going inside. My home stay family really spoilt me by taking me ice skating and taking me to the movies. I loved it and I will never forget it and I think that I have learnt that taking the risk to go outside my comfort zone can be worthwhile.
The remainder of our time in Shanghai was spent seeing the some of the most recognised sites in Shanghai such as the Oriental Pearl TV Tower and the Bund. No words can describe how beautiful the Shanghai Night skyline is from the Boat Cruise along the Huangpu River at night.. We also went to the wax museum at the base of the Pearl Tower which showcases the history of the culture of Shanghai. Next door to this we visited the Shanghai Aquarium and did some shopping on Nanjing road.
As our 10 days drew to a close we attended the closing ceremony. Each of the country delegations put on a show which somehow represented their countries. The  Aussies decided to sing 'We are Australian' which was received quite well. Then for the goodbyes which involved lots of tears, hugs and contact detail swapping.
I am so grateful to everyone from 'Shanghai People's Association for Friendship with Foreign Countries' and the 'Shanghai Youth Federation' for organising this opportunity. Thankyou also to the Australian China Friendship society for selecting me as an ambassador for Australia. Not only do I now appreciate other cultures but I also have friends from all over the world. I love Shanghai and all of its bustle. I feel so honoured to one of the people that were part of this trip and I would like to encourage all organisers to continue to offer, organise and support this opportunity to other teenagers in the future.
Jordan Richards
South Australian Branch of ACFS